Sorry for being a month too late (damn, time is running shorter and shorter when you reach mid 20′s ;)) but here are the results of the DJ Premier Blog Awards, we only have one category and that's for the best Premo beat :D. I'm actually very glad with the voters count, it was a strong battle between the Demigodz and Ill Bill beat. And we have a 1k+ more voters than last years vote so fuck yeah! Thank you all!! And with no further yip yap, the best DJ Premier Beat of 2013 is:
Congrats to the whole Demigodz clique, they smashed the vote by collecting 29% (aka 992votes) of the votes! Damn what a beat, perfect old Pino soundtrack sample flipped!! What sad is… is that just like last year, this jam didn't have a vinyl release (thank god they pressed up the LP). So it's official I guess… singles on vinyl are death. Here are the full results by the way (check how close the top is):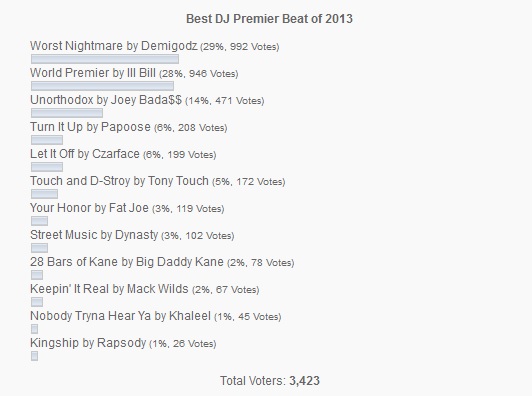 So what was your opinion? My vote went out to the Tony Touch beat, pure gutter! …I wonder what the sample is… And with 2012 as a year without European artists they are now back in the game (late 2013, will be included in 2014 poll). 2014 is going to be a dope year, enjoy!
Previous winners:
2012 winner: Mind Your Business by La Coka Nostra (28%)
2011 winner: You by Evidence (22%)
2010 winner: Première Salve by Soulkast (20%)
2009 winner: Rap Addiction by Blaq Poet (17%)
2008 winner: Say Goodnight by Reks (30%)
Once again, thanks to all the voters, you were with a lot! And congratulations to the Demigodz with the win! AND A HAPPY NEW YEAR PEOPLE !! End of the DJ Premier Blog Awards.