Whoohaa, we have a new winner in our small little own DJ Premier awards!! If you compare the vote number with last year you see we had less votes, but I don't care about that. All I know is that we still had 2,454 votes!! I have to thank my real fans for that. And with no further yip yap, the best DJ Premier Beat of 2012 is:
Congrats to the whole La Coka Nostra clique, they smashed the vote by collecting 28% (aka 675votes) of the votes, what a beat!! What sad is… is that just like last year, this jam didn't have a vinyl release. So it official I guess… singles on vinyl are death. Here are the full results: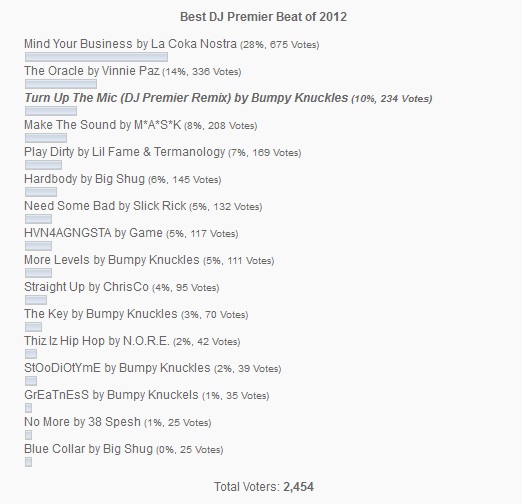 So what's your opinion? My vote went out to the Nas remix, the way he chopped up that Andraé Crouch sample… BANANAS!! What I noticed is that in 2012 no European artist released a DJ Premier collabo, while two years ago a European artist won the vote… But 2013 will change that, that's a fact. Damn… with Joey Bada$$ as the first beat in 2013 I can't wait what Premo has more to offer, lets go!!
Previous winners:
2011 winner: You by Evidence (22%)
2010 winner: Première Salve by Soulkast (20%)
2009 winner: Rap Addiction by Blaq Poet (17%)
2008 winner: Say Goodnight by Reks (30%)
Once again, thanks to all the voters, you were with a lot! And congratulations to La Coka Nostra with the win! AND A HAPPY NEW YEAR PEOPLE !! 2k13 will bring us a lot of fresh new Premo beats!!! End of DJ Premier Blog Awards.