Yesss, I'm so full of joy. The best DJ Premier beat of 2011 is decided thanks to 4,098 (!!) Premo fans to be exact. That's a lot more votes in compare with last year… damn this blog is growing. Can't thank the people who vote enough. And with no further yip yap, the best DJ Premier Beat of 2011 is with no surprise:
Evidence won the DJ Premier Blog Awards like a boss, 22% aka 912 votes of all voters voted for him. If you know we never had a list to vote for that big it's really impressive. Too bad this single never had a wax release. We may still love vinyl, but it's dying for real. Here's the full list people: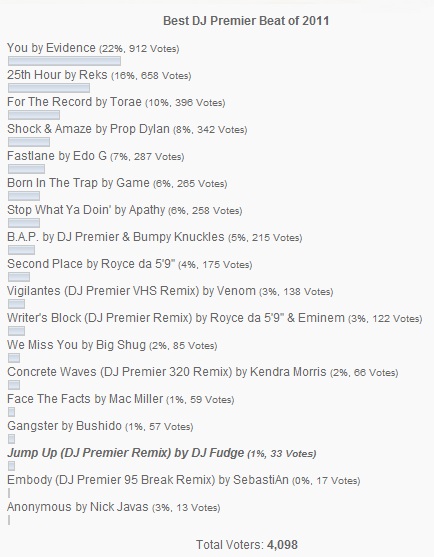 What do ya'll think? The funny thing is, I voted for Jump Up (Remix)… I think that instrumental is really underrated, I funked with that a lot in 2011. It was choosing between Fastlane or Jump Up (Remix). Last year an European artist won, now the first European artist is Shock & Amaze by Prop Dylan on the fourth place, also congrats to him! Looking forward to hear the best beat of 2012!!
Previous winners:
2010 winner: Première Salve by Soulkast (20%)
2009 winner: Rap Addiction by Blaq Poet (17%)
2008 winner: Say Goodnight by Reks (30%)
Once again, thanks to all the voters, you were with a lot! And congratulations to Evidence with the win! AND A HAPPY NEW YEAR PEOPLE !! 2k12 will bring us a lot of fresh new Premo beats!!! End of DJ Premier Blog Awards.